August 21, 2007
Let the battle begin!
Two will enter ... one will leave ...
No, I'm no talking about Thunderdome.
I'm referring to this fall's Battle of the Sex-and-the-City Heirs Apparent.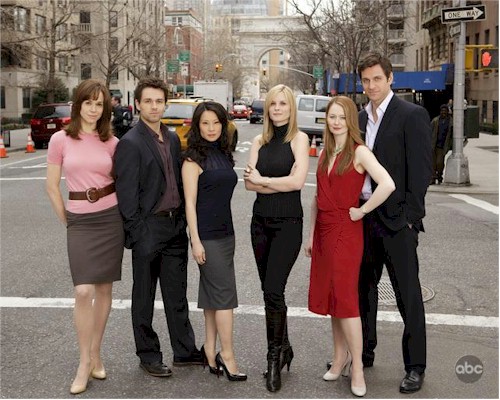 In the Blue Corner: Cashmere Mafia, ABC's new series from SatC producer Darren Starr. The story follows four powerful Manhattan executives—played by Lucy Liu, Miranda Otto, Frances O'Connor, and Bonnie Somerville—as they support each other through the ups and downs of life, love, and career in the big city.
And in the Red Corner: Lipstick Jungle, NBC's new series based on the book by SatC author Candace Bushnell. The story follows three powerful Manhattan executives—played by Brooke Shields, Kim Raver, and Lindsay Price—as they support each other through the ups and downs of life, love, and career in the big city.
What's that? No, silly, of course they're totally different. One has four main characters, the other has three—don't ya get it? Gawh!
Yes, the glaring similarities have been duly noted by both press and public. Now both sides seem to have called a truce in the "who copied whom" fingerpointing game and have decided to let the people out in TV-land decide.
So take a look at each promo and leave a comment on which one you'd be more likely to watch.
Posted by: hellooooogorgeous at 01:47 PM | No Comments | Add Comment
Post contains 212 words, total size 2 kb.
August 20, 2007
Monday morning fun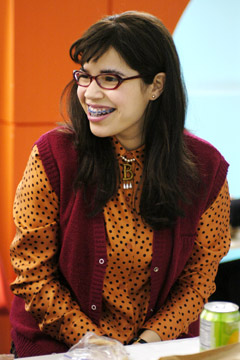 Maybe we all have to wait until September 27 for the new season of Ugly Betty, but ABC is getting the party started early with a promo video featuring an adaptation of Mika's "Big Girl."
Check it out at the Ugly Betty home page for some Monday morning fabulousness.
Update: For those of you diehard Office/My Name Is Earl fans who may have missed Season 1, it's now available on DVD—including a behind-the-scenes segment showing exactly what it takes to get gorgeous America Ferrera "Bettified."
Posted by: hellooooogorgeous at 09:58 AM | No Comments | Add Comment
Post contains 88 words, total size 1 kb.
August 16, 2007
Quote of the week for August 17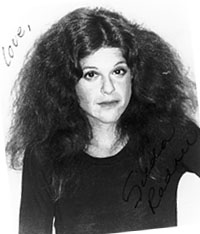 This week's quote comes from one of the funniest ladies ever: the late, great Gilda Radner.
"I base my fashion taste on what doesn't itch."
Posted by: hellooooogorgeous at 06:48 PM | No Comments | Add Comment
Post contains 32 words, total size 1 kb.
Heavy weather chic
As all of us in southeast Texas brace ourselves for the effects of former–Tropical Storm Erin and approaching Hurricane Dean, there's just one thing on my mind.
What does one wear to a hurricane?
On the one hand, in a severe weather situation, protecting one's self and family is the most important thing. On the other, who says you can't protect your fabulista image at the same time?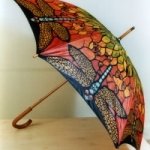 I'd start with the ultimate rainy-day accessory, the umbrella—specifically, this gorgeous Tiffany Dragonfly Umbrella from the U.K.-based Umbrella Shop. (After all, who knows rainy days better than the Brits?)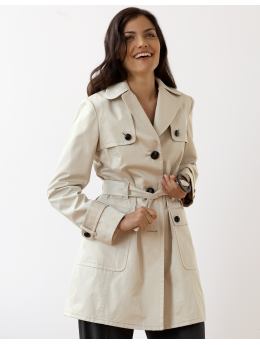 Next, of course, must come a fabulously chic trenchcoat. (No slickers, darling—let's leave the plastic to the Tupperware people.) As we've already made a strong statement with the umbrella, I'd go subtle on this element with Banana Republic's black button trench.
And now for some fabulous footwear to pull it all together—can't have those Manolos getting all wet and nasty now, can we, ladies? Here I'd go for a solid-color Wellie that pulls out one of the umbrella shades, like these Hunter Original rain boots in light green.
So let the rain fall and the wind blow—you're covered with a storm-proof fashion statement that lasts all hurricane season long.

Posted by: hellooooogorgeous at 10:59 AM | No Comments | Add Comment
Post contains 209 words, total size 2 kb.
August 15, 2007
From "Allure" to "All-whore?"
Good God, Allure! First Lindsay, now Britney?
As an avid Allure reader (as in, best not come between me and my mailbox during the third week of the month), I was willing to forgive the May cover featuring professional trainwreck Lindsay Lohan. Okay, fine, we're being all edgy and controversial, blah, blah, blah ...
Then I got wind that Britney had been signed for the September marquis. I was skeptical but optimistic; hey, if I were getting serious about a pop-princess comeback, Allure would be one of my first stops.
When I first heard that she flaked out on her interview for the cover story (not once, but four times), then followed up with behavior bizarre enough to have us all rooting for KFed to get the kids, I was sure the editors would yank the whole thing. Surely editor-in-chief Linda Wells could call in a favor from Scarlett or Sienna and cobble together a serviceable cover package.
Alas, no. Somehow they managed to slap a feature together and went ahead with the cover story. All I can say is, that Photoshopping job must've been a major investment of time and money to merit such an editorial disaster.
So, okay, Allure. You know I love you no matter what you do, but let's all hope that you've finally gotten this rebellious streak out of your system. Let's finish out 2007 on a high note and get some class back on your cover, 'kay?
Posted by: hellooooogorgeous at 01:55 PM | No Comments | Add Comment
Post contains 247 words, total size 2 kb.
Disconcerted by "discontinueds?"
Ah, you can still recall the day when you first found The One that was right for you. You just knew it was right from the first moment. Day after day, season after season, your affection only deepened as time marched on.
Until the day when the magic was gone. And there was no getting it back.
I'm speaking, of course, about that perfect shade of lipstick-blush-eyeshadow-nail polish that was discontinued just when you thought you'd never love another. But fear not, forlorn maiden—your knight in shining armor is just a mouse click away.
Introducing Three Custom Color, the solution for your discontinued-product heartache.

Just visit their custom studio and tell them the brand, the name and the shade of your lost love—or send them whatever's left of your last tube or pot. The first thing they'll do is search their own extensive inventory of discontinued brands for an exact match. If that doesn't work, their custom colorists will get to work to produce an exact replica.
And, of course, your customized formula remains in their permanent files, so you can reorder whenever you need to.
Ah, I love happy endings.

Posted by: hellooooogorgeous at 07:46 AM | No Comments | Add Comment
Post contains 194 words, total size 1 kb.
Fall trend alert: cap toe shoes
Just got a memo from your toes, ladies.
They don't quite know how to break it to you, but, em, after two solid seasons, they're getting tired of peeping.
Yes, as summer whimsy gives way to fall sophistication (and yes, I know it's still hotter than the Hinges of Hell outside, but work with me here), the peep-toe shoe is taking a back seat to one of fall's hottest trends, the cap toe.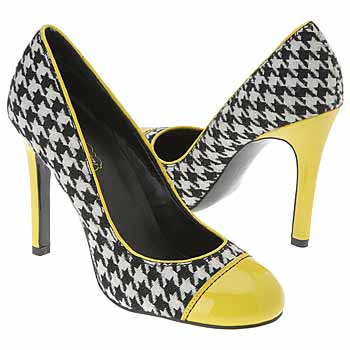 Classic and sophisticated (think Jackie O and Marilyn), the cap toe adds a touch of flair to an otherwise homgenous landscape, while still keeping everything demurely covered. And that can be very sexy. Like this cuter-than-cutey-cute pump from Oh Deer, which brightens up a classic black-and-white houndstooth with a pop of yellow (still a hot color, by the way). I'd totally wear these with jeans as well as with a conservative black business suit--then just let the compliments roll on in.
Oh, and here's the best part: you can finally take a break from pedicures for a bit. (It's OK: your secret's safe with me...)
So when your fall fashion forays find you in the shoe department, just remember this cap-tivating fall trend. With a cap-ital T. Then we'll all go for a cap-puccino.
Okay, I'll stop now.
Posted by: hellooooogorgeous at 07:24 AM | No Comments | Add Comment
Post contains 217 words, total size 2 kb.
August 14, 2007
Why should coeds have all the fun?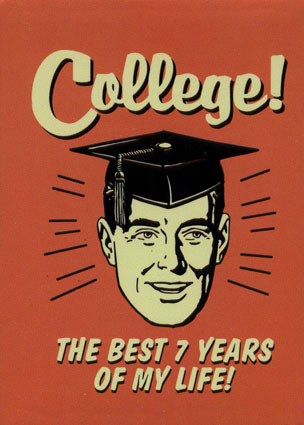 As you moms are well aware, the back-to-school vibe is definitely in the air. (BTW, the Texas tax holiday is this weekend. You diehard bargain-hunters will want to set your alarms and eat your Wheaties--me, I'll be curled up with the mister until it's time for my morning yoga. Even I have limits.)

Yes, the shopping blogs are all abuzz with must-haves for our collegiate sisters as they gear up for another school year. But why should they have all the fun?

And with that, I present my top five back-to-school buys that we can all enjoy.
iPod Dock and Travel Speakers from iFusion: Hey, it's still plenty warm
enough for pool parties, and with this portable jam generator, you'll be the life of every one you attend. Just charge it up, pack up your 'Pod, and you're ready to go. There's no outlet required; all you need is your favorite party playlist to keep the tunes spinning!


Hoodie Sweater from Newport News: Once seen only on college
compuses, usually in gray fleece and usually less-than-recently washed, the hoodie has gone totally mainstream. Love, love, love this soft blue option from Newport News, embellished with feminine crochet details. Sure, you might have to hold off until the next cool front, but it's worth the wait.


Post-Its, Fashionista Style: Yes, your favorite office supply has gotten a long-overdue
makeover for Fall 2007. Keep an eye out for hot new colors like coral and lime, as well as stylish patterns that make up the "Samba" collection.


Faux-Croc Laptop Bag from TechStyle: Sure we all love basic black,
but when it comes to your laptop bag, why miss the chance to make a fashion statement? Pack your tech into this hot pink number from TechStyle and you'll never want to put it down.


Red-Stripe "Crunch Basket" from the Container Store: Even if you're not living in a dorm, this little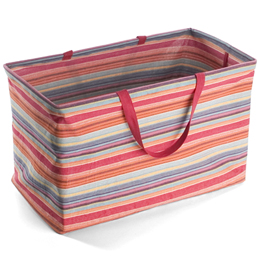 space-saving gem can be quite a lifesaver. It pops up into a structured rectangular basket, ideal for things like hauling in your dry cleaning. And when you're done, just crunch it up again; it folds perfectly flat for easy storage.
So whether you're fresh out of school or are somewhat more "established," there's no need to miss out on these fun back-to-school buys. Happy shopping!
more...
Posted by: hellooooogorgeous at 07:36 PM | No Comments | Add Comment
Post contains 389 words, total size 4 kb.
August 13, 2007
Well, hellooooo, gorgeous!
Greetings and welcome to the all-new
Hellooooo, Gorgeous
blog!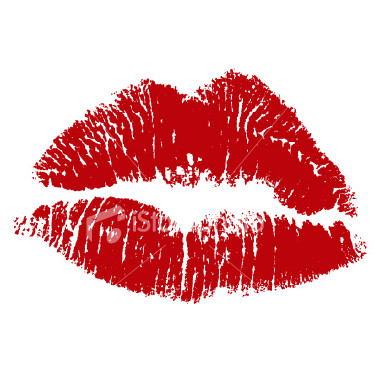 For those of you wondering who I am and what I'm doing here, lemme 'splain.
No, is too much. Lemme sum up.
Hellooooo, Gorgeous
began as a weekly newsletter I'd created for the girls at the ad agency where I used to work, for two distinct purposes:
sharing my passion for all things fabulous in beauty and fashion with my galpals, and
enjoying a desperately-needed respite from the abysmal drudgery of writing insurance copy.

Anyway, I changed jobs about six weeks ago and have been encountering byzantine technical problems getting each week's issue through to my girls at the office. (For those of you who missed the last two issues, I've posted them
here
and
here
.)
So finally I just said, eff it, I'm starting a blog.
And here I am to enter the wonderful world of blogging and reach a whole new audience of gorgeous fabulistas.
Check in early and often for fashion news, beauty tips, book and blog reviews, and any other fabulousness that's fit to print.
Thanks for visiting and welcome!
Posted by: hellooooogorgeous at 07:26 PM | No Comments | Add Comment
Post contains 186 words, total size 1 kb.
30kb generated in CPU 0.02, elapsed 0.1012 seconds.
42 queries taking 0.0833 seconds, 91 records returned.
Powered by Minx 1.1.6c-pink.