September 22, 2007
Product review: Beautiful nails for a beautiful cause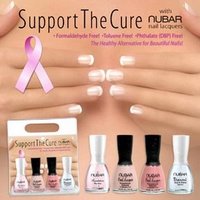 As you may or may not know, the only thing I love better than a good nail product is a free nail product. In this case, I just happened to get both.
Recently the good folks at
Nubar Nail Products
contacted the gals at my
other blogging gig
; while nail products really don't fit into their product offering, they did agree to give Nubar a spot on the blog. Which is
where I came in
. So grateful were the Nubarians that they sent me a Support the Cure 4-pack for my trouble.
Having used my kit a couple of times now, I'm quite impressed with the results. From the base coat to the two lovely lacquers—Pink Cami and Je T'aime—to the Diamant Top Coat, I found good consistency (neither too watery nor too goopy), excellent color, and nice, subtle shine. But that's not the best part: the durability is
insane
.
I'm quite rough on my hands, and it's not unusual for me to start seeing chips as soon as one day after a manicure. But I used my Nubar kit six days ago, and the only casualty is a teeny-tiny chip on my right thumbnail (my "worst" one), with no retouches or extra top coats during the week.
As you'll see from my original blog entry, each Nubar product is free of many harmful ingredients often found in commercial polishes. And best of all, 10 percent of each Support the Cure's kit's purchase price will go toward St. Jude Children's Research Hospital, Cancer Treatment Research Foundation, and City of Hope.
So if you're looking for a truly impressive nail product and want to support a worthy cause at the same time, click on over to Nubar and pick up a
Support the Cure 4-pack
. Or check out some of their
terrific shades for fall
. Either way, you'll get a beautiful, not to mention healthier, manicure that'll take you all the way to next weekend.
Posted by: hellooooogorgeous at 03:22 PM | No Comments | Add Comment
Post contains 332 words, total size 2 kb.
9kb generated in CPU 0.02, elapsed 0.0353 seconds.
42 queries taking 0.0275 seconds, 64 records returned.
Powered by Minx 1.1.6c-pink.