August 22, 2007
Dressing well ... the nerve!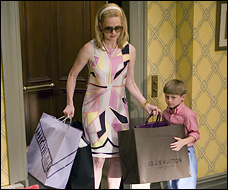 The fabulous Manolo recently posted a link to an interesting editorial in last week's Washington Post, "The Risk of Overdressing," which author Robin Givhan opens with the following provocative observation:
"It has become common practice among the self-righteous burlap-and-sandals set to indict a woman for being too perfectly turned out. Interest in fashion, at its highest and glossiest level, is seen as shorthand for self-absorption, vapidness and thoughtlessness."
The article goes on to present the treatment of Laura Linney's character in The Nanny Diaries as a metaphor for the disdain often showed toward women who obviously put time, effort, and money into their appearance. And while I found Ms. Givhan's commentary both relevant and thought-provoking, I think she neglects the fundamental question of where this prejudice against polish came from in the first place.
Personally, I feel it's inextricably bound with the "don't give a damn" vibe that has so pervaded our society's sartorial sensibilities over the last few years. As the masses dress down to unspeakable lows—case in point: crocs—those who take a more elevated approach to their image are increasingly portrayed as shallow, conceited, and, often, just too dumb to spend their time on anything else.
(continued after the jump)
more...
Posted by: hellooooogorgeous at 09:32 AM | No Comments | Add Comment
Post contains 594 words, total size 4 kb.
9kb generated in CPU 0.01, elapsed 0.0347 seconds.
42 queries taking 0.0265 seconds, 64 records returned.
Powered by Minx 1.1.6c-pink.