August 22, 2007
Dressing well ... the nerve!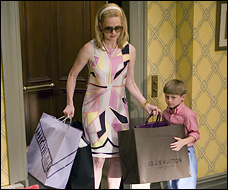 The fabulous Manolo recently posted a link to an interesting editorial in last week's Washington Post, "The Risk of Overdressing," which author Robin Givhan opens with the following provocative observation:
"It has become common practice among the self-righteous burlap-and-sandals set to indict a woman for being too perfectly turned out. Interest in fashion, at its highest and glossiest level, is seen as shorthand for self-absorption, vapidness and thoughtlessness."
The article goes on to present the treatment of Laura Linney's character in The Nanny Diaries as a metaphor for the disdain often showed toward women who obviously put time, effort, and money into their appearance. And while I found Ms. Givhan's commentary both relevant and thought-provoking, I think she neglects the fundamental question of where this prejudice against polish came from in the first place.
Personally, I feel it's inextricably bound with the "don't give a damn" vibe that has so pervaded our society's sartorial sensibilities over the last few years. As the masses dress down to unspeakable lows—case in point: crocs—those who take a more elevated approach to their image are increasingly portrayed as shallow, conceited, and, often, just too dumb to spend their time on anything else.
(continued after the jump)
I vividly remember my grandmother telling me about "her day" as a young woman, when one wouldn't dream of venturing forth for an afternoon of downtown shopping (and downtown was the only place to shop) without pearls, hat, and immaculate white gloves in place. This was the mark not of a narcissistic bimbo with nothing better to do than primp, but of a true lady who graced all she encountered with her beauty and elegance. Her image was her own work of art, and the world was the gallery in which she generously shared it with all.
Can't help but picture Nonie spinning in her grave at the sight of today's nymphettes flouncing around suburban malls in rubber flipflops, pajama pants, and bra-strap-revealing tank tops.
I can already hear the frenetic choruses of "the c-word," that holiest of mantras invoked by What Not to Wear makeover subjects who cry "But it's
co-o-o-om-fortable!" as they struggle to rescue their 3XL sweatshirts from the inevitable trash can. Don't get me wrong, ladies; I'm not saying we need to don high heels and pencil skirts for the weekly schlep to Kroger. But it's still entirely within our power to be, yes, comfortable and still look like we give a damn.
And yes, of course we're all busy women. We have jobs to commute to, kids to chauffeur around, workouts to squeeze in, beagles to care for. I'm right there with you, at least on the job, workout, and beagle fronts. Again, I emphasize that it's not about achieving perfection 24/7. It's about putting forth a little effort and, in doing so, quietly conveying the respect we hold both for ourselves and for those we come into contact with.
And that, to me, is what dressing well is really all about.
I suppose my point here is, can't we all just get along? Can we agree that there's a happy medium between wax-museum-ish prima donna and harried working gal schlepping around in sweats? That a woman doesn't, to paraphrase The Devil Wears Prada, sell her soul the moment she slips on a pair of Jimmy Choos? And that we can all simply acknowledge each other's efforts and appreciate our sisters for the aesthetic gifts they choose to share with us?
I sincerely hope so.
Now, where did I put those pearls?
Posted by: hellooooogorgeous at 09:32 AM | No Comments | Add Comment
Post contains 594 words, total size 4 kb.
Comments are disabled. Post is locked.
12kb generated in CPU 0.02, elapsed 0.0794 seconds.
45 queries taking 0.0703 seconds, 75 records returned.
Powered by Minx 1.1.6c-pink.