September 19, 2007
2007 Emmy Awards: Fabs and Fugs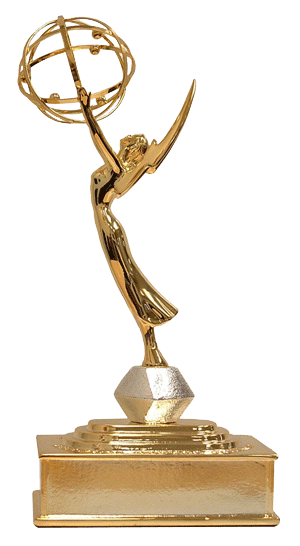 Those of you who know me well know that I never watch award shows, but on Sunday night, I honestly did give the Emmys a try.
Four minutes after tuning in, the combination of inane banter, canned laughter, and self-congratulating in-jokes had rendered my eyes glazed, my brain reeling, and my hand reaching for the remote, thumb pre-poised to reach the Off button with optimal efficiency.
Truly, from a purely pragmatic standpoint, there's absolutely no need for award shows in today's info-on-demand culture. In less time that it takes a bubble-headed starlet to make an ass of herself, the results could be posted to a Web page in one swell foop and we'd all be done with it.
They do serve one gleaming purpose, though: giving celebs the chance to strut out in their latest finery ... and giving us mortals the chance to dish about it.
And with that, I present my choices for this year's Fabs and Fugs at the Emmys. (Click on the thumbnails to see larger photos.)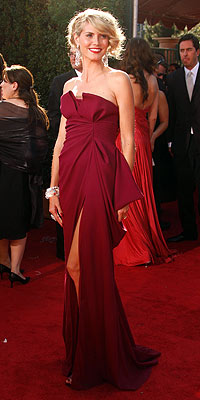 First, the Fabs: Kudos to the delicious, daring divas who decided to give basic black a rest and wow us with color!
Heidi Klum. Gosh amighty, Miss Heidi! Clearly here's a woman on a mission to prove she's one hot mama: first those smokin' hot topless ads for Jordache, and now this devilishly glam slit-up-to-there Dior gown. (Love the hair and makeup, too!)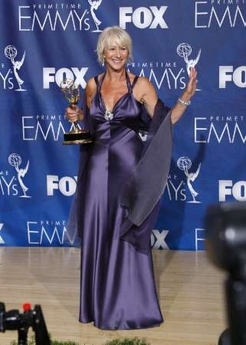 Helen Mirren. Would it be a Hellooooo Gorgeous! red-carpet review without a little Helen Mirren love? My well-documented girl crush aside, I think she looks stunning in this shiny deep-periwinkle creation (couldn't track down the designer—anybody know?), which she paired with her lucky "stripper shoes." (I would have gone a bit bolder on the makeup, though.)
More after the jump.
more...
Posted by: hellooooogorgeous at 01:05 PM | No Comments | Add Comment
Post contains 530 words, total size 6 kb.
September 15, 2007
TV review: Tim Gunn's Guide to Style
Okay, it's no secret that I have a huge crush on Tim Gunn. He's my one and only IBF (Imaginary Best Friend). We go shopping together
all
the time. Why, just the other day we were enjoying lattes and biscotti at Starbucks when he shared the
funniest
—oh, um, sorry. Did I say that out loud?
Anyway, my point is yes, I was predisposed to liking, even loving his new show,
Tim Gunn's Guide to Style
. (Thursdays, 8pm Central, on Bravo). But I do have an obligation to my readers to approach all reviews with a degree of objectivity, and I made every effort to do so here.
Even with my most stiffly-starched skeptic hat firmly in place, I found very little not to like about dear Tim's latest contribution to the fashion-loving public. (Which ties in neatly with the release of his book,
Tim Gunn: A Guide to Quality, Taste, and Style
; stay tuned to
Hellooooo, Gorgeous!
for a review.) Here we have what the reality show universe has been crying out for: a makeover show that can boast both credentials and heart.
More after the jump:
more...
Posted by: hellooooogorgeous at 05:33 PM | Comments (4) | Add Comment
Post contains 675 words, total size 5 kb.
September 14, 2007
I. Am. In. Love.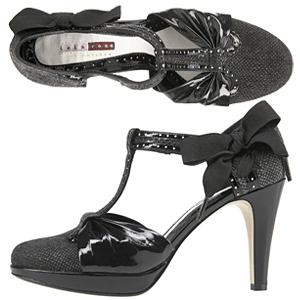 It all started innocently enough. See, I get these regular e-mails from
Payless
touting their latest lines. Usually I just peruse them with a casual interest and a glancing nod to their commitment to affordable chic. But that's usually about it.
Until today.
Today I received my Payless "check out our new line from Lela Rose" e-mail and—as a fashion thought-leader—I dutifully followed the link. Which is when I found
this wonder
.
Never mind that this delicious creation, the "
Birchin T-Strap Pump
," combines two of Fall 2007's hottest trends—menswear-inspired accents (the tweed toe and heel) and patent leather (hellooooo, Sarina!). But it ties the whole package together, literally, with a sweet, ultra-feminine bow at the ankle. And at $30, they're incredibly tough to resist.
Which is why I don't plan to.
Posted by: hellooooogorgeous at 08:39 PM | No Comments | Add Comment
Post contains 135 words, total size 2 kb.
August 29, 2007
White out?
As we head into the Labor Day weekend, the "official" end of summer (yeah, tell it to the weatherman...), that most ancient of style questions raises its often-revered, often-reviled head.
I'm speaking, of course, about whether or not it's acceptable to wear white shoes after Labor Day.
Let's consult no lesser an authority than Manolo the Sheblogger himself to set us all straight on this age-old question.
Here's the gist:
Certainly, the Manolo is the traditionalist, one who believes that our standards of dress and comportment have slipped badly in recent times, but the Manolo is also the realist one who recognizes that this ancient and petty dictum had outlived it usefulness in the modern age.

So, unless you are having the high tea with the ladies of the Biloxi Garden Society, this is the rule you can safely ignore well into the fall, but only if the weather remains hot and sunny, as white shoes are indeed summer weather shoes.
So there you have it, ladies. As long as the sun is shining and temps are high—which in Texas should take us well into mid-October—you can slip on your fave white footwear and rock it with pride.
Personally, I'd recommend a sweet little two-toned number that can ease from floaty summer dresses into the more structured styles of fall—like the ultra-delish Whisper from Charles David. Pair them with your flirty black-and-white sundress for Labor Day festivities, then with soft gray (this season's hot neutral!) trousers as the season wears on.
Posted by: hellooooogorgeous at 07:52 AM | No Comments | Add Comment
Post contains 253 words, total size 2 kb.
August 27, 2007
Calling all mommies!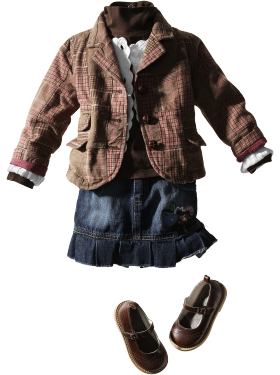 If you're the fabulous mommy of an equally fabulous bambino (or will be soon), have we got news for you!
The eternally superfantastic Manolo has expanded his blogging empire yet again—this time into the world of parenting with Teeny Manolo.
So if you're looking to swath your bundle of joy into the latest and greatest fall fashions—or if you're just curious which celebrity mom almost dropped her kid this week—cruise on over and create a bookmark right now.
Posted by: hellooooogorgeous at 02:46 PM | No Comments | Add Comment
Post contains 81 words, total size 1 kb.
August 23, 2007
Fall fashion buzz from Elaine Turner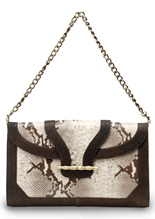 Houstonian
Elaine Turner
has come quite a long way since the year 2000, when her lifelong love of accessories inspired her to open her own handbag business. Now her work has earned the patronage of Hollywood fashionistas such as Debra Messing, in addition to appearing in such hallowed publications as
Elle
,
In Style,
and
O
.
Elaine recently appeared on
Great Day Houston
to unveil her Fall 2007 line and enlighten us about some of the season's hottest trends. Two things she says we can keep an eye out for:
While they never seem to go away altogether,

metallics

are particularly in this season. Look for golds, silvers, bronzes, and other shinies to be gracing the season's "it" bags—especially silver. And don't worry about matching your jewelry to your bag; since all metallics are neutrals, you can feel free to mix and match.
Expect to see lots of

hardware

—chains, buckles, charms, you name it—like the link-chain strap on this ultra-sweet Alice shoulder bag pictured here.

To see the video, just go to the
Great Day Houston
website and select "Bag It Up in Style!" from the list of clips at right.
So where can you snag one of Elaine's fab-tastic creations? See them up close and personal at Tootsie's and Nordstrom in Houston, or at her flagship store in Dallas. And of course, you can always shop at her
website
(the new fall line isn't up yet, but I'm sure it will be soon).
Thanks to the fabulous Tammy and her buddy Lauren—one of Elaine's fabulous deisgners—for the tip.
Posted by: hellooooogorgeous at 07:14 PM | No Comments | Add Comment
Post contains 263 words, total size 2 kb.
August 22, 2007
Fall trend alert: gray expectations
Buh-bye espresso, taupe, and nutmeg—the hot neutral for this fall is cool, classic gray.
Synonymous with both cozy sweaters and sophisticated suiting, gray is making a huge comeback across the board, from easy knit dresses like this honey from The Gap (pictured) to Ralph Lauren's menswear-inspired tailored pieces.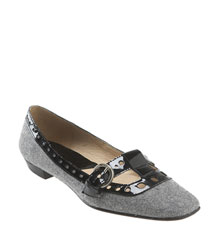 Also look for gray flannel accessories galore, like this delicious "Emily" t-strap flat from Michael Kors. Just the thing for strolling down a leaf-covered park pathway on a crisp autumnal day. (Again, I know it's effin' stifling right now, but work with me here ...)
I for one am thrilled to see gray back in the limelight, and not just because it's a refreshing change from those oh-so-predictable autumnal earthtones. Gray's been a fave standby of mine for years, and believe it or not, this understated hue actually has extraordinary sentimental value. (Find out why after the jump.)
more...
Posted by: hellooooogorgeous at 08:32 AM | No Comments | Add Comment
Post contains 318 words, total size 3 kb.
August 16, 2007
Heavy weather chic
As all of us in southeast Texas brace ourselves for the effects of former–Tropical Storm Erin and approaching Hurricane Dean, there's just one thing on my mind.
What does one wear to a hurricane?
On the one hand, in a severe weather situation, protecting one's self and family is the most important thing. On the other, who says you can't protect your fabulista image at the same time?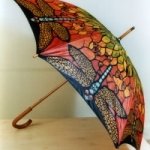 I'd start with the ultimate rainy-day accessory, the umbrella—specifically, this gorgeous Tiffany Dragonfly Umbrella from the U.K.-based Umbrella Shop. (After all, who knows rainy days better than the Brits?)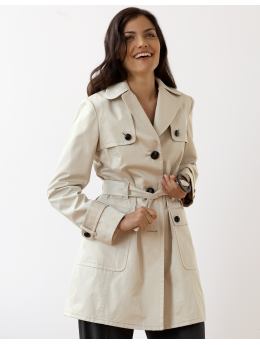 Next, of course, must come a fabulously chic trenchcoat. (No slickers, darling—let's leave the plastic to the Tupperware people.) As we've already made a strong statement with the umbrella, I'd go subtle on this element with Banana Republic's black button trench.
And now for some fabulous footwear to pull it all together—can't have those Manolos getting all wet and nasty now, can we, ladies? Here I'd go for a solid-color Wellie that pulls out one of the umbrella shades, like these Hunter Original rain boots in light green.
So let the rain fall and the wind blow—you're covered with a storm-proof fashion statement that lasts all hurricane season long.

Posted by: hellooooogorgeous at 10:59 AM | No Comments | Add Comment
Post contains 209 words, total size 2 kb.
August 15, 2007
Fall trend alert: cap toe shoes
Just got a memo from your toes, ladies.
They don't quite know how to break it to you, but, em, after two solid seasons, they're getting tired of peeping.
Yes, as summer whimsy gives way to fall sophistication (and yes, I know it's still hotter than the Hinges of Hell outside, but work with me here), the peep-toe shoe is taking a back seat to one of fall's hottest trends, the cap toe.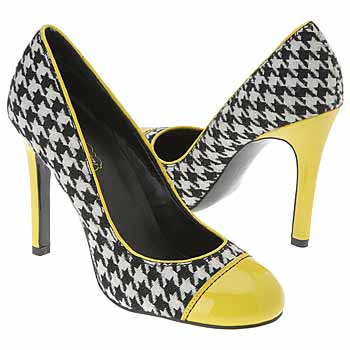 Classic and sophisticated (think Jackie O and Marilyn), the cap toe adds a touch of flair to an otherwise homgenous landscape, while still keeping everything demurely covered. And that can be very sexy. Like this cuter-than-cutey-cute pump from Oh Deer, which brightens up a classic black-and-white houndstooth with a pop of yellow (still a hot color, by the way). I'd totally wear these with jeans as well as with a conservative black business suit--then just let the compliments roll on in.
Oh, and here's the best part: you can finally take a break from pedicures for a bit. (It's OK: your secret's safe with me...)
So when your fall fashion forays find you in the shoe department, just remember this cap-tivating fall trend. With a cap-ital T. Then we'll all go for a cap-puccino.
Okay, I'll stop now.
Posted by: hellooooogorgeous at 07:24 AM | No Comments | Add Comment
Post contains 217 words, total size 2 kb.
August 14, 2007
Why should coeds have all the fun?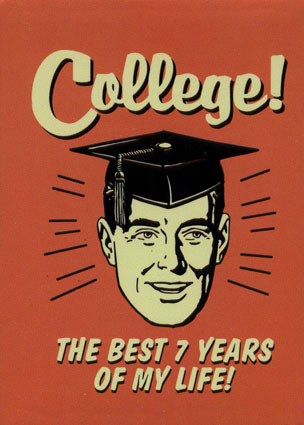 As you moms are well aware, the back-to-school vibe is definitely in the air. (BTW, the Texas tax holiday is this weekend. You diehard bargain-hunters will want to set your alarms and eat your Wheaties--me, I'll be curled up with the mister until it's time for my morning yoga. Even I have limits.)

Yes, the shopping blogs are all abuzz with must-haves for our collegiate sisters as they gear up for another school year. But why should they have all the fun?

And with that, I present my top five back-to-school buys that we can all enjoy.
iPod Dock and Travel Speakers from iFusion: Hey, it's still plenty warm
enough for pool parties, and with this portable jam generator, you'll be the life of every one you attend. Just charge it up, pack up your 'Pod, and you're ready to go. There's no outlet required; all you need is your favorite party playlist to keep the tunes spinning!


Hoodie Sweater from Newport News: Once seen only on college
compuses, usually in gray fleece and usually less-than-recently washed, the hoodie has gone totally mainstream. Love, love, love this soft blue option from Newport News, embellished with feminine crochet details. Sure, you might have to hold off until the next cool front, but it's worth the wait.


Post-Its, Fashionista Style: Yes, your favorite office supply has gotten a long-overdue
makeover for Fall 2007. Keep an eye out for hot new colors like coral and lime, as well as stylish patterns that make up the "Samba" collection.


Faux-Croc Laptop Bag from TechStyle: Sure we all love basic black,
but when it comes to your laptop bag, why miss the chance to make a fashion statement? Pack your tech into this hot pink number from TechStyle and you'll never want to put it down.


Red-Stripe "Crunch Basket" from the Container Store: Even if you're not living in a dorm, this little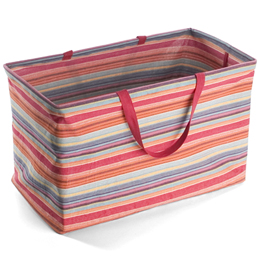 space-saving gem can be quite a lifesaver. It pops up into a structured rectangular basket, ideal for things like hauling in your dry cleaning. And when you're done, just crunch it up again; it folds perfectly flat for easy storage.
So whether you're fresh out of school or are somewhat more "established," there's no need to miss out on these fun back-to-school buys. Happy shopping!
more...
Posted by: hellooooogorgeous at 07:36 PM | No Comments | Add Comment
Post contains 389 words, total size 4 kb.
36kb generated in CPU 0.04, elapsed 0.0727 seconds.
44 queries taking 0.042 seconds, 92 records returned.
Powered by Minx 1.1.6c-pink.