August 22, 2007
Fall trend alert: gray expectations
Buh-bye espresso, taupe, and nutmeg—the hot neutral for this fall is cool, classic gray.
Synonymous with both cozy sweaters and sophisticated suiting, gray is making a huge comeback across the board, from easy knit dresses like this honey from The Gap (pictured) to Ralph Lauren's menswear-inspired tailored pieces.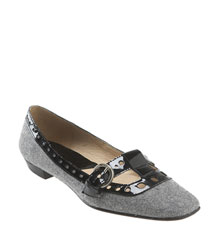 Also look for gray flannel accessories galore, like this delicious "Emily" t-strap flat from Michael Kors. Just the thing for strolling down a leaf-covered park pathway on a crisp autumnal day. (Again, I know it's effin' stifling right now, but work with me here ...)
I for one am thrilled to see gray back in the limelight, and not just because it's a refreshing change from those oh-so-predictable autumnal earthtones. Gray's been a fave standby of mine for years, and believe it or not, this understated hue actually has extraordinary sentimental value. (Find out why after the jump.)
Would you believe a gray sweater changed my life?
A long time ago, my college girlfriend Lisa and I came to the conlcusion that the absolute sexiest thing a man can wear is a gray sweater. Neither as severe as black nor as aggressively earthy as brown, there's just something about a cozy gray sweater that makes a gal want to climb into a man's arms and stay there for, oh, forty or fifty years.
Anyway, when Lisa began dating her future husband Mark, she two of them decided to do the new-couple thing and set up their best friends, those being myself and Mike. And before introducing us, Lisa made sure to let Mike in on the supernatural Power of the Gray Sweater.
I don't remember much of what we talked about at our first meeting, but that sweater will stick in my mind forever.
That was over 10 years ago, and it's been sweet, sweet love ever since.
And yes, he still has the sweater.
Posted by: hellooooogorgeous at 08:32 AM | No Comments | Add Comment
Post contains 318 words, total size 3 kb.
Comments are disabled. Post is locked.
10kb generated in CPU 0.02, elapsed 0.0815 seconds.
45 queries taking 0.072 seconds, 75 records returned.
Powered by Minx 1.1.6c-pink.