September 19, 2007
2007 Emmy Awards: Fabs and Fugs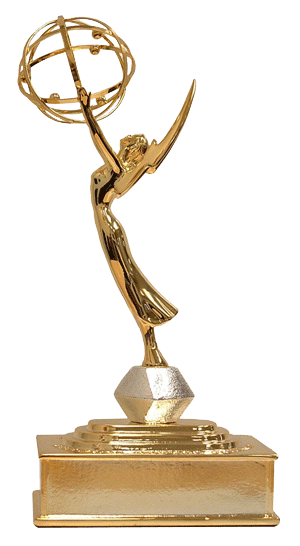 Those of you who know me well know that I never watch award shows, but on Sunday night, I honestly did give the Emmys a try.
Four minutes after tuning in, the combination of inane banter, canned laughter, and self-congratulating in-jokes had rendered my eyes glazed, my brain reeling, and my hand reaching for the remote, thumb pre-poised to reach the Off button with optimal efficiency.
Truly, from a purely pragmatic standpoint, there's absolutely no need for award shows in today's info-on-demand culture. In less time that it takes a bubble-headed starlet to make an ass of herself, the results could be posted to a Web page in one swell foop and we'd all be done with it.
They do serve one gleaming purpose, though: giving celebs the chance to strut out in their latest finery ... and giving us mortals the chance to dish about it.
And with that, I present my choices for this year's Fabs and Fugs at the Emmys. (Click on the thumbnails to see larger photos.)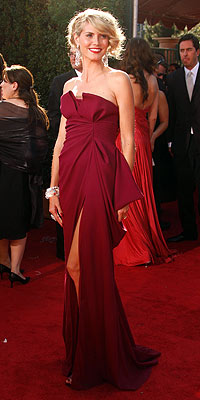 First, the Fabs: Kudos to the delicious, daring divas who decided to give basic black a rest and wow us with color!
Heidi Klum. Gosh amighty, Miss Heidi! Clearly here's a woman on a mission to prove she's one hot mama: first those smokin' hot topless ads for Jordache, and now this devilishly glam slit-up-to-there Dior gown. (Love the hair and makeup, too!)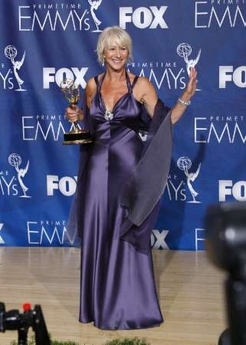 Helen Mirren. Would it be a Hellooooo Gorgeous! red-carpet review without a little Helen Mirren love? My well-documented girl crush aside, I think she looks stunning in this shiny deep-periwinkle creation (couldn't track down the designer—anybody know?), which she paired with her lucky "stripper shoes." (I would have gone a bit bolder on the makeup, though.)
More after the jump.
Julia Louis-Dreyfus. Purple is hot-hotty-hot this season, and no one pulled it off better than one of my favorite funny girls in Narcisco Rodriguez. Love her show, love this look … and love the fact that it took a girl to break the Seinfeld curse!
And now for the Fugs—the looks that were too flashy, too frumpy, or just plain wrong.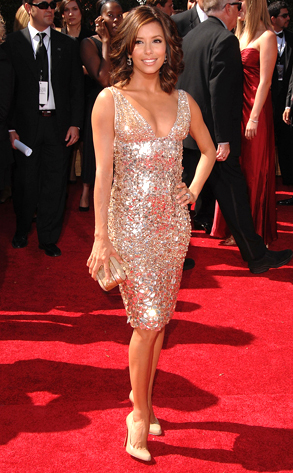 Eva Longoria. Okay, E-Lo, many a fashionista has lost her mojo after saying "I do," but the fact that you have an army of stylists at your bidding leaves you no excuse. Despite its flashiness (get her to spin around and it's disco fever, y'all!), this look from Kaufman Franco just strikes me as tired.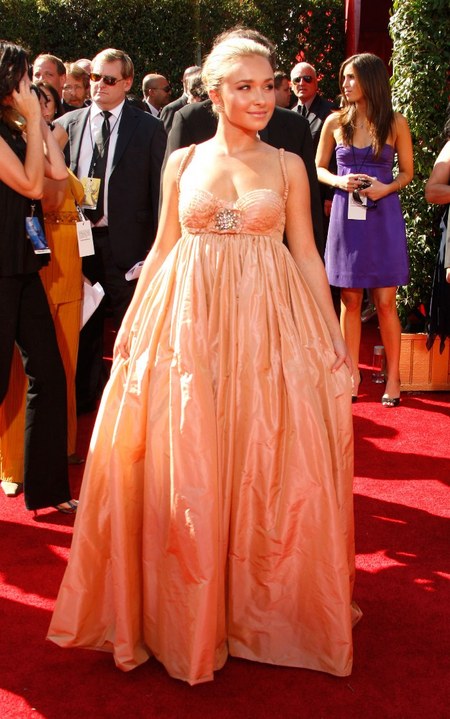 Hayden Panettiere. This voluminous design from Marc Bouwer is wearing her (though it's kinda fun to imagine who or what she might be hiding under that skirt), and the color washes out her skintone. The result: a dress that enters the room 10 minutes before she does.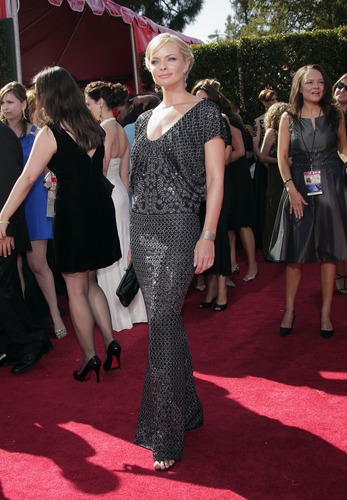 Jaime Pressly. While I love La Pressly bunches and am thrilled that she won, this beaded gown from St. John makes her look downright dumpy. C'mon, Jaimz, you've got one of the hottest bods in Hollywood—show it off a little!
Of course I could go on and on, but I'd much rather hear from you. What were your top three Fabs and Fugs at this year's Emmys?
Posted by: hellooooogorgeous at 01:05 PM | No Comments | Add Comment
Post contains 530 words, total size 6 kb.
Comments are disabled. Post is locked.
13kb generated in CPU 0.01, elapsed 0.0375 seconds.
45 queries taking 0.0277 seconds, 75 records returned.
Powered by Minx 1.1.6c-pink.